2021 Jeep Wrangler vs. 2021 Ford Bronco: Off-Road Battle
Did the Jeep Wrangler Finally Find a Worthy Opponent?
Although the Wrangler name wasn't actually used until 1987 with the introduction of the Jeep Wrangler YJ, this powerhouse off-road performer was created in the 1940s as the Willys MB and has been a staple of the Jeep family from the start. And since the 40s, there has been nothing like it on or off the road. The Jeep Wrangler has been the ultimate all-purpose SUV for so long, that it's started to get a little lonely at the top. Cue the Ford Bronco's entrance music.
In walks this ideation of the Bronco, trying to have the swagger of a heavyweight who's been here before but feeling a little out of place competing against the champion. What Ford is calling "The First Edition Bronco" is actually the sixth, it just took the Ford engineers a 25-year hiatus of brainstorming and behind-the-scenes innovation to come up with anything that can come close to competing with the Jeep Wrangler.
So, is it all fluff? Have we seen this movie before? Can the 2021 Ford Bronco actually ride alongside the new 2021 Jeep Wrangler? Our experts at Jim Browne Chrysler Jeep Dodge Ram Dade City set out to find the answer by breaking down the different features, ratings, and safety between the two. Since both models are so highly customizable (13 standard trims on the Wrangler and 7 on the Bronco), we looked at only the 4-door "compact SUV" trims in an attempt to make the fight feel fair. So, let's see who wins. Ding, ding, ding.

Head-to-Head Power and Performance
2021 Jeep Wrangler
Starting at the base-level 2021 Wrangler Unlimited Sport 4×4, we can already see the potential this classic has. Equipped with a standard 3.6L V6 24V VVT engine and a 6-speed manual transmission, this mammoth comes out of the box with 285 hp and 260 lb-ft of torque. If that doesn't suit your adrenaline needs, then there are three additional engines and two different automatic transmissions to add to your customization.
This version of the Jeep Wrangler also comes standard with a conventional differential front and rear axle and an anti-spin differential rear axle. Add those features to the three tow hooks, transmission skid plate, and stop-start dual battery system, and you can start to see why the Wrangler has stayed so popular.
2021 Ford Bronco
Ford took a slightly different approach to their off-road vehicle with a 2.3L EcoBoost® engine and a standard 10-speed SelectShift® automatic transmission. The new Bronco comes standard with a 3.73 open style rear axle that performs much like the Wrangler that it's trying to emulate, but Ford failed to put a live axle in the front. Yeah, you read that correctly. On top of that, the Bronco also doesn't have a limited-slip differential standard or optional.
When we're looking at the optional suspension packages, the 2021 Ford Bronco does have an available Sasquatch package that is pretty impressive, but that adds a pretty penny whichever model you choose. So, while the Bronco appears to have a high level of off-road performance, the Wrangler pretty easily takes the bulk of the points in round one.
Maybe You Can Go Off-Road, but Can You Look Good Doing It?
2021 Jeep Wrangler
As we stated before, the new Wrangler comes in a wide variety of different trim levels from the 2021 Wrangler Unlimited 4xe to the Rubicon and Sahara editions, there is bound to be an array that fits your unique style. With 12 available hard and soft tops, you can find exactly what you need to cruise the Tampa streets or head to Orlando for the weekend.
This year's Jeep Wrangler is classic and really hasn't changed much since the early years. From the gloriously boxy build to the renowned 7-Slot Grille, our engineers and world-class designers continue to give the people what they want. And that's why there's one word that comes to mind when you think of a Wrangler… iconic.
2021 Ford Bronco
On the other hand, Ford spent years trying to find a design that could compete and they settled on the highly redesigned mixture of old and new that's to be released later this year. And they did a good job. Credit where credit is due. They managed to create a front end that has a personality and looks like it wants to stay on the Florida roads but isn't necessarily afraid to take a dip in the swamp. Ford also offers some cool matte finishes on the exterior. But, is this round really a competition? Really? Let's move on.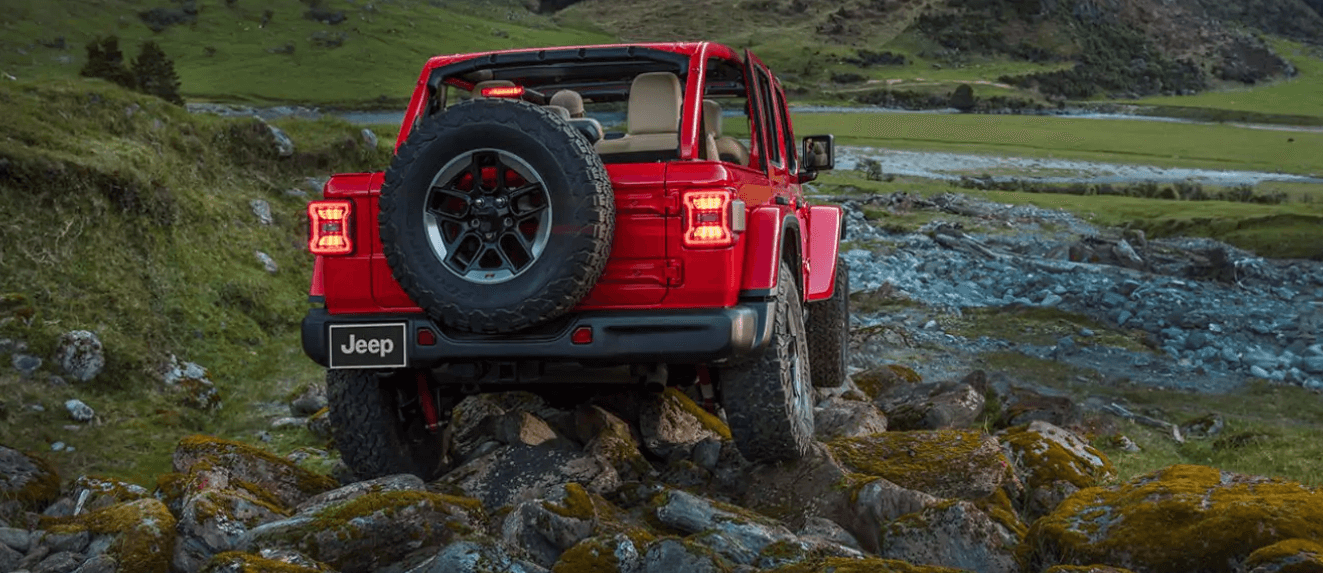 So, Who Takes Home the Cake?
Maybe it isn't fair to compare a classic and a newbie. After all, we haven't even seen the new Ford Bronco on the road (or off of it) yet. But, based on the pictures and the showrooms, we feel we can say with a high level of certainty that the new Jeep Wrangler is still the very best off-road SUV on the market. With an immense number of factory options inside, outside, and underneath, this beautiful piece of machinery is a classic for a reason.
So, whether you've been thinking of upgrading your current Wrangler to the latest model, or you're sick of being left out of the tight-knit Wrangler community (which is real), contact us, check out our extensive Wrangler inventory, and come into the dealership to test drive what this new SUV has to offer.